Hoof care
Trimming the hooves of your horse regularly is part of his/her basic care. It keeps the hooves strong and healthy and the horse sound and comfortable. But it is important to realize that just trimming regularly and properly is not the only factor in keeping the horse and his hooves healthy: feeding/nutrition, housing, training and movement, but also for example dentistry are very important to think about as well. All parts of the body of the horse influence each other.
I believe it is important to take all these parts into account and work together with other specialists and the horse owners in an open and honest way.
Let me give you an example of why hoof care is important.
Image that you should walk on your fingertips. Of course this would not work because our fingers are not made to carry our entire weight like that, but what you also might have found is that your nails will bend and break under the pressure if the nails are left too long (ouch!).
Now think about a horse's hooves. The hoof wall is comparable to your nail; it, too, will bend (flare) and break (crack) when left too long and pressured too much or in the wrong way. This affects the inside of the hoof as well, making the hoof weaker in several ways, f.i. damage of the internal structures, vulnerability to fungi and infections, pain or stiffness in other body parts due to compensation and not using the hoof in a balanced healthy way.

Our horses live in the environment we put them in. That means we are responsible for giving them the right food, the right company, the right kind and amount of movement and ideally the right kind of ground to live on. We should be aware of that and aim to provide our horses with the best environment for them that we can.
Method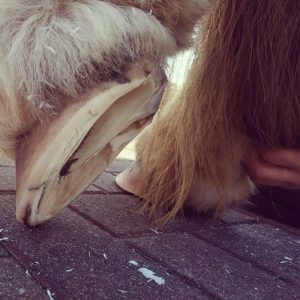 An important part of my hoof trimming method is the frequency of the trims. I believe a short (3-5 week) trimming interval is the best way to help keep healthy hooves healthy and improve less healthy hooves quickly. Hooves have a wonderful capacity to regrow and improve – given the right circumstances.
For some horses a shorter interval might be necessary, for some longer might work just as well. It is always better to do little bits more often, than huge 'construction works' over longer periods of time.
This is also why I encourage horse owners to learn to do intermediate (mini-)trims and I am always happy to explain what I do and what you can do yourself.
As a barefoot hoof trimmer my goal is to balance the hoof in the best way possible for that horse at that time. I might recommend using hoof boots, checking in with a dentist/osteopath/equine therapist/nutrition specialist or to change housing if I feel that that would improve your horse's health.

HOOF BOOT FITTING
I am also hoof boot 'utprovare' for Viahov (mostly Equine Fusion and Evo boot) as well as for Hovcenter (Flex boot), offering a hoof boot fitting service and hoof boot selling. Check out the hoof boot page and ask me for more information if this would be something for your horse.
I'm even working with heat fitting of Evo boots to adjust them exactly to your horse's hooves.
Prices and Working area
As I will be moving north of Stockholm in the coming months, I will take a short break from regular hoof trimming to get settled in the new place. I expect to be back in business in november/december and will take new clients in Uppsala/northern parts of Stockholm. Contact me to see what is possible for your location. It is also possible to bring your horse to me for their trim or boot fitting!
Prices from 1-11-2022
Consult / second opinion
about hooves, health, feed/pasture management, R+/academic training
<45 minutes
Hoof boot fitting
should happen max. 1 week after a trim. Several brands will be discussed and tried out (Equine Fusion, Evo, Flex, Scoot)
Heat fitting EVO / advanced boot adjustments
for extra visits & custom fitting
500 SEK

350 SEK/30 minutes
regular trim PLUS boot fitting
combine a regular trim with boot fitting and get a discount
Regular* hoof trim
pony/horse
Regular* hoof trim
draft/big horse**
Overdue*** hoof trim
pony/horse
Overdue*** hoof trim
draft/big horse**
Removing shoes + first barefoot trim
Travel expenses for all services
(unless you come to my place of course!)

Other services include: PHW hoof wrapping, glue-on boots, training/lesson, courses…
40 SEK/mil

Please contact me with your requests!
Travel expenses will be calculated per location (so you can share if there are multiple customers in the same location).
* for a trim to be considered 'regular' the last trim should be less than 6 weeks ago.
** assuming your draft horse is used to be trimmed by hand and trained to lift its own feet.
*** for a trim to be considered 'overdue' the last trim is 7+ weeks ago OR if there is simply a lot of work to be done for other reasons and the trim takes longer than 45 minutes. This could also be due to behavioural issues. We can talk about this and decide what is fair.
Terms & Conditions
When you've booked an appointment with me, it is implicit that these terms and conditions have been read, understood and accepted. I expect to be able to do my work based on mutual trust and common sense. If anything is unclear, please discuss it with me.
You will inform me of all the things I should know about your horse (illness, illness in the stable, behavioural problems, health history, your wishes and expectations from me as a hoof trimmer and that those will be reasonable :') ).
My approach to your horse is friendly and patient. I'd rather (have you) retrain them than punish them. This might mean that a trim takes longer or cannot be finished all at once, for example when your horse is anxious. If you prefer some other way to achieve things, it might be better to find someone else. Let's be honest about this as well.
Open, honest and timely communication.
When you want to reschedule an appointment, contact me at least 24h beforehand and we will reschedule without any extra costs. I can also contact you to reschedule or cancel, this doesn't cost you anything extra either.
In case of cancellation from your side within 24h of the appointment, I am forced to charge the entire amount.
Payment: internet banking/SWISH on the same day. SWISH is preferred 🙂 Invoicing is possible.
It would be great to find your horse reasonably clean and in a spacious, calm and dry place for the trim, so I can focus entirely on your horse and his/her hooves.
Credentials / Education
Participated in Viahovs EVO HEAT FITTING, 2 day course for bootfitting pro's, with Albert from Evo boot – august 2023
Participating in the online course 'Turn the corner' at Hanna Engström, Ekeskogs Riding Academy (Academic art of Riding) – from may 2023 (https://www.ekeskogs-ridingacademy.com/)
Participating in the online course 'a healthy horse field through optimal management' at Horse & Habitat with Harmke Schrijver – from feb 2023 onward (https://www.horseenhabitat.nl/)
Participated in the online course 'to train your horse injury-free (4D dressage)' at Horse in Mind with Karin Leibrandt and Tessa Roos – jan-april 2023 (https://www.horseinmind.nl/)
Participated in the day course on Bootfitting for resellers at Viahov – nov 2022
Participated in the 3-day continued education 'Hoof bootcamp' at Centrum voor Hoefgezondheid, theme Caudal hoof pain – aug 2022
Participated in the 2-day course 'Gelijmde hoefbescherming', glue-on boots and applications at Centrum voor Hoefgezondheid – may 2022
Participated in the day course 'Perfect Hoof Wrap wrapping course' at Viahov ft. Kent Wiberg – feb 2022
Participated in the 3 day continued education 'Hoof bootcamp' at Centrum voor Hoefgezondheid, theme Laminitis and Founder – sept 2021
Following several online courses and lectures (Linda Karlsson on laminitis, KC LaPierre on barefoot hoof care, and more)
Member of Svenska Hovvårdares Riksförbud (SE) – 2020-2021
Participated in the 2 day course 'hoef-fit' at LD Hoefverzorging Lennart Denkhaus (NL) – 2020
Participated in a 2 day clinic with David Landreville (NL) – 2019
Succesfully participated in the full education for Barefoot Paardadviseur (barefoot horse advisor) at Odisee Hogescholen, with lessons and internships in hoof health, worms, feeding, teeth, anatomy, housing, saddle/bitless bridle fitting, positive reinforcement training, straightness training and more (BE) – 2018-2020
This education included multiple shorter traineeships with different pro's in horse health and hoof trimming.
Participated in the 2 day course 'Inzicht in Hoeven & Hoefonderhoud voor eigen paard' with Heleen Davies (NL) – 2017